About Us
The Skeptics Guide to Emergency Medicine (SGEM) is a knowledge translation (KT) project. Its goal is to shorten the KT window from about ten years down to one year. To do this it will turn traditional medical education on its head.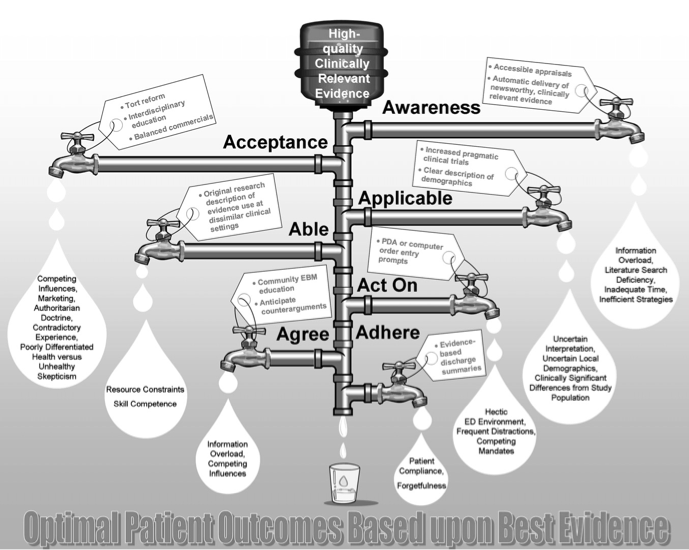 Diner BM, Carpenter CR, O'Connell T, Pang P, Brown MD, Seupaul RA, Celentano JJ, Mayer D: Graduate medical education and knowledge translation: role models, information pipelines, and practice change thresholds. Acad Emerg Med 2007, 14(11):1008-1014.
The top down/didatic method of the 19th century with a older man in a white lab coat sanding in front of a lecture hall delivering in formation to an audience of medical students is over. This was replaced by the small group/problem based learning of the 20th century.
Medical education is entering another phase that uses social medial. The SGEM will use social media to deliver the most valid, reliable, and unbiased global source of currently clinically-relevant patient-centered emergency medicine information.
So rather than the trickle down KT method the SGEM will use the bubble up technique. The SGEM will empower students and residents with the latest and best evidence based medicine (EBM) information. They can download and listen to the SGEM pod cast at anytime. Then the social media aspect can foster discussion. The students will become the KT pathway to their teachers of emergency medicine. In the process the medium will become the message (
Marshall McLuhan
http://en.wikipedia.org/wiki/The_medium_is_the_message
).
Enjoy, give us feedback and remember the first rule of emergency medicine…don't panic!
Legal Information and Disclaimer Notice
This material is intended for medical students, residents, and emergency physicians. The goal of the SGEM program is to provide the students and physicians with best evidence in emergency medicine based on the BEEM project. Each month the topic covered reflect a critical review based on EBM principles. The learning method consists of a podcast and written BEEM review.
The provider of this educational material may discuss commercial products and/or devices as well as the unapproved/investigative use of commercial products/devices. The provider of this educational material report that they do not have significant relationships that create, or may be perceived as creating, a conflict relating to this educational activity.
The Skeptics Guide to Emergency Medicine makes a reasonable effort to supply accurate information but does not assume any liability for errors or omissions. Because of the nature of the program and its formate, it is not recommended that they serve as the sole basis for patient evaluation and treatment.