Happy American Thanksgiving 2013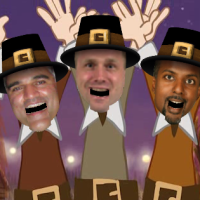 Happy American Thanksgiving to all the SGEM listeners from the USA. Click on this fun YouTube video featuring some of the BEEM members celebrating the holiday.
According to the SGEM Facebook page 21% of likes are from USA.  TwitterMap App says 35% of my followers are from America. My blog does not generate this type of data. But there are two members of the BEEM Dream Team in the USA. Dr. Tony Seupaul is a transplanted Canadian who is the Chair of EM at University of Arkansas and Dr. Chris Carpenter the EBM guru from Washington University in St. Louis. I hope they enjoy the long weekend spending time with close friends and family.